One Book Away: Seattle
Main | Privacy Policy
---
One Book Away shows a summary of your borrowing activity at the Seattle Public Library.
This app helps organize items waiting for you at the library, similar to a queue. It estimates how long you should have to wait for an item you have on hold. For example, if you know it will take about 60 days for a book to arrive, you might decide to read something else while waiting.
If you haven't already done so, go download it now from the Google Play store!

I came up with the idea as a final project for a few Android classes. You can see some progress being made from some blog entries:
Features
Designed after a classic library checkout card
Stores your user credentials securely within the app
For items on hold, it shows an estimate for how long you should have to wait for it to become available
For checked-out items, it shows how many days until it is due
For items that are waiting for you, shows how many days it will be held at the library for you to pick it up
Shows a detail page for each item, with a short synopsis
Things this app does not do:
The app is meant as an interactive activity report for your library usage. It cannot request a new book, renew a currently checked out book, etc.
The app cannot track digital items: e-books, mp3 audiobooks, etc (however CD-based audiobooks are fine)
Notes
The Seattle library does not provide a public API to access their information, so data is gathered from their website. If the library changes the layout of their web pages, this application will likely not work until I have a chance to update it accordingly.
Finally, this app will only work with the Seattle Public Library. However, if your library's website uses the Horizon system, it should be possible to make it work with your library too. Feel free to contact me if you are interested.
Permissions:
INTERNET: Allow app to gather data from the library
ACCESS_NETWORK_STATE: Determine if device is connected to the internet
Screen shots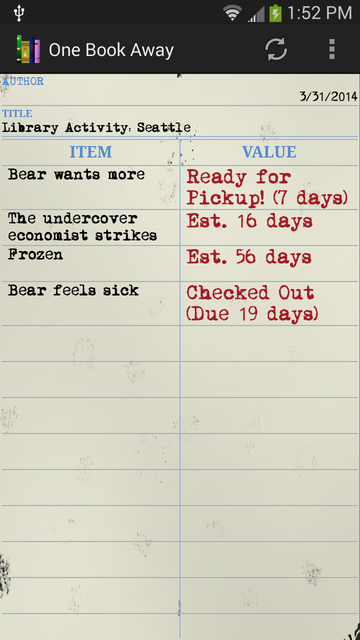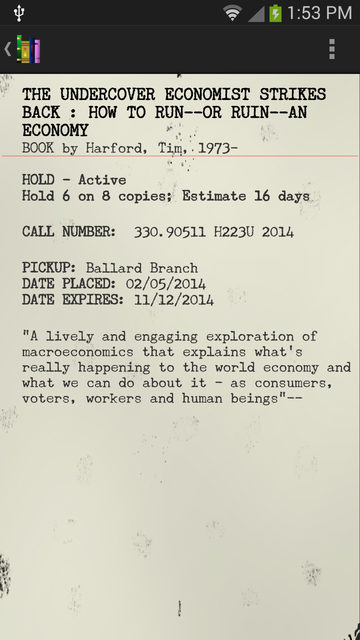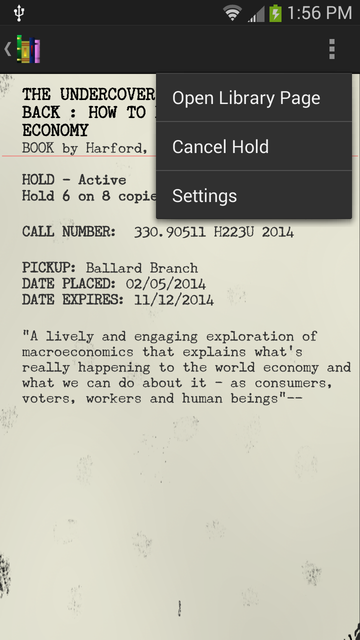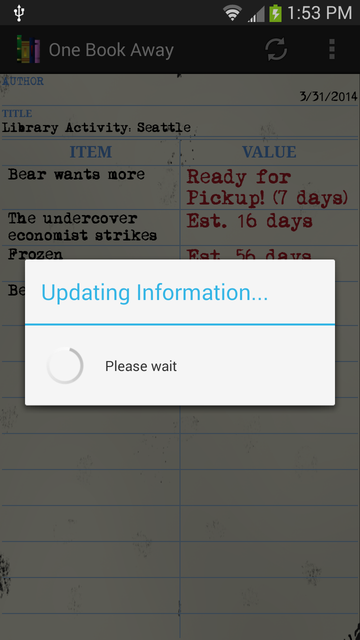 Links